HP 14, HP 14 Eco Edition and HP 15.6: affordable laptops for everyone
HP took advantage of CES in Las Vegas earlier this year to reveal its new laptop that will live in 2023. Among these, we found inexpensive consumer models that allow you to take advantage of the latest components at low prices. . This category includes the HP 14, HP 14 Eco Edition, and HP 15.6, standard ultraportables that strike a great balance between convenience and compactness. The device also comes in several versions depending on the choice of processor. All in all, there will be a choice between 5 different models each with arguments to make.
HP 14AMD
The first of the 5 previously announced models is AMD's HP 14. The name already implies a good part of the technical sheet. It then has a 14-inch IPS display available in Full HD (1920 x 1080 pixels) or HD (1366 x 768 pixels) with the classic 16:9 ratio. There is also a touchscreen option for the HD version and models can go up to 250 nits or 400 nits brightness.
Under the hood, of course, it offers AMD's signature chips and especially those of the latest generation Ryzen 7000. Several options are available, namely Ryzen 7 7730U, Ryzen 5 7530U, Ryzen 5 7520U, and Ryzen 3 7320U. There are also slightly older options with the Athlon Gold 7220U or Athlon Silver 7120U.
This laptop offers RAM ranging from 8 to 16 GB DDR4 or 4 to 16 GB LPDDR5. This corresponds to PCIe NVMe SSD storage with capacities ranging from 128 GB to 1 TB.
It also offers pretty average connectivity with a USB-C port, 2 USB-A ports, a mini-jack combo socket, and an HDMI 1.4 output. For the wireless part, there's Wi-Fi 6 and Bluetooth 5.3. HP True Vision webcam in Full HD 1080p or HD 720p with integrated microphone ensures an extraordinary video conferencing experience. This set is powered by a 41 Wh battery which is compatible with fast charging at 45 W or 65 W.
HP 14 Intel
Intel's HP 14 uses the same design lines as the AMD version. It thus maintains the same dimensions with a thickness of 17.9 mm for a total weight of 1.4 kg. Thanks to this, its presence in a bag or suitcase is not particularly felt.
On the screen side, we find more or less the same proposals. But this model has a version with a Quad HD display (2560 x 1440 pixels) with 300 nits brightness. Also, it doesn't offer any option with touch screen.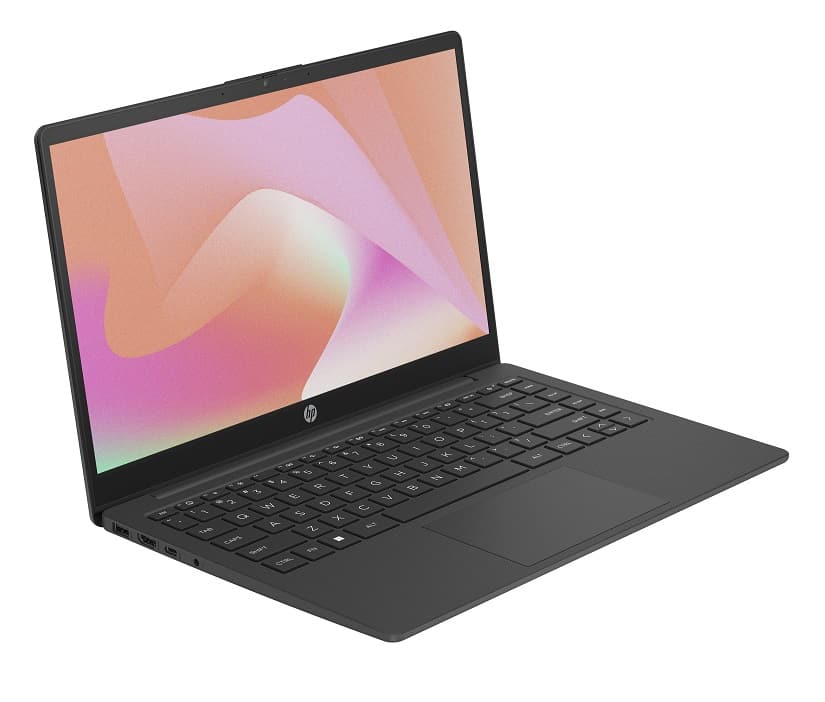 The main difference compared to the previous model is the inside. Indeed, it basically contains the processor Raptor Intel Lake The 13th generation of the P and U series. Specifically there is a choice between Core i7-1360P, Core i5-1340P, Core i7-1355U, Core i5-1335U and Core i3-1315U. You can also choose a model with a processor Alder Lake 12th Generation includes Core i3-N305, Intel N200 Processor and N100 Processor.
Here, we kept the same amount of RAM but no version with LPDDR5. Therefore, the 4 GB version remains in DDR4. Storage also holds the same options but this time, we can grab the version with 128 GB of UFS storage.
HP 14 Eco Edition
The American manufacturer also offers a third version of the smallest model, namely the HP 14 Eco Edition. It then becomes a model with an identical appearance to the first two but with an environmentally responsible vocation.
The main difference is in the design, or rather in the finish. Here, HP announces that the computer consists of at least 50% recycled materials. This includes notably aluminum on the shell but also plastic on the buttons and other internal elements. It also uses used oil and only uses water to base the keyboard.
As for the technical sheet, it takes up most of what we've seen before on models with Intel processors. That said, there's no version with an HD screen and even for the only Full HD option, the brightness doesn't exceed 250 nits. There's also no version with UFS storage and they all have 1080p webcams.
HP15.6
Alongside these three 14-inch models is a larger version: the HP 15.6. They then differed primarily in size with the weight rising to 1.6 kg for a thickness of 18.6 mm. This is mainly due to the larger screen with a diagonal of 15.6 inches. Thus, it offers greater convenience of use in exchange for a clearer size. We found the screen quality to be the same with the exception of the QHD model.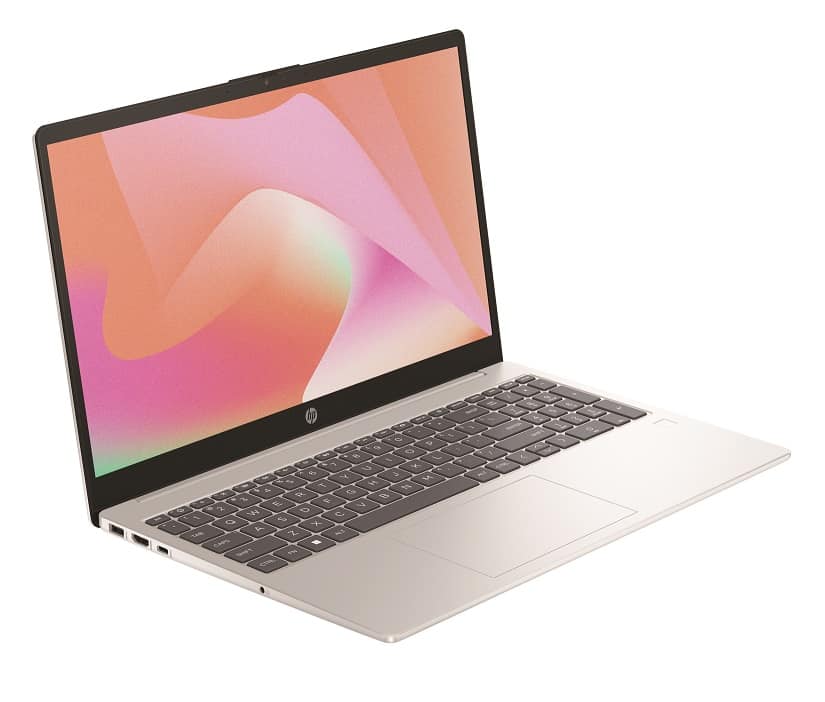 It's also available on HP 15.6 AMD and HP 15.6 Intel. However, there is no Eco model yet. Available models use the same processor and storage options. However, there are differences in the graphics section. Indeed, the Intel model may have a dedicated Nvidia GeForce MX550 graphics card where the 14-inch model is limited to an integrated Intel Iris Xe or Ultra HD Graphics GPU. The AMD version is still content with an integrated AMD Radeon Graphics graphics processor.
Price and availability of the HP 14, HP 14 Eco, and HP 15
New HP laptops will arrive on the market at different times and at more or less different prices:
HP 14 AMD: March 23, 2023 from €449
HP 14 Intel: May 3, 2023 from €299
HP 15.6 AMD: March 13, 2023 from €449
HP 15.6 Intel: May 10, 2023 from €299.
The HP 14 Eco Edition meanwhile should land during spring with no specific date or price.