Follow-up to a bad weather episode: little snow between Brittany and the northeast
Last follow-up point Tuesday night at 9 p.m.
Snowfall is continuing between northern Burgundy, Lorraine and Alsace. We observed 1cm of snow at Colmar, 3cm at Epinal, 5cm at Auxerre, 9cm at Belfort and 13cm at Langres.
Snowfall also circulates across eastern Brittany leaving 1-3 cm of snow on the ground in the inland hills. Light snow also affected Orne, northern Sarthe and Beauce by 2 cm in Chartres.
At 20:07, snow increases between Nancy, Lunéville, and Sarrebourg. Light snowfall occurs in Auxerrois, northern Côte d'Or and Haute Saône with between 1 and 4 cm of snow in these areas. Finally, light to moderate snowfall is observed between eastern Brittany, the hills of Lower Normandy and Beauce. We observe locally 3 to 5 cm in elevation of Côtes-d'Armor and Orne.
At 7:17 p.m., moderate snowfall affecting Lorraine and Alsace and in particular the Epinal, Lunéville, Nancy, Colmar sectors. The snow also affected the Belfort area in Franche-Comté where we observed 9 cm on the ground.
It also snows between Auxerrois and the Langres plateau. There was up to 3 cm of snow on the ground at Auxerre and up to 13 cm at Langres.
There are also sprinkles in the hills of northern Brittany and Lower Normandy.
At 18:36, it still snows continuously between northern Burgundy and Alsace. These waterfalls remain low to moderate intensity, and fall below a temperature of 0 to 2°C. Snow sticks mainly to the ground from 400 to 600 m, but is more difficult at lower altitudes. In the latter case, traffic poses no difficulty on the main axis being defended.
On the other hand, another light snowfall occurred between south of Ile-de-France and north of Brittany. Given the slightly positive temperature, the snow doesn't stick to the ground. However we cannot exclude that with isotherms this occurs in the following hours. However, they will be low in number, between 1 and 2 cm and very localized 2 to 4 cm in some relief.
5:37 p.m., the snowfall has faded in Orléanais while it has strengthened towards Haute-Marne and Alsace. Wet, sticky snow falls at temperatures between 0 and 2°C, between 0 and 400 m altitude. However, the situation changed a little faster than expected. Tonight, snowfall will pick up rapidly across the northeast before decreasing in intensity overnight.


© Weather Channel

Another snowfall was observed in Brittany, but in the form of unobtrusive rain.
Winds don't vary too much on the Aquitaine coast for 2-3 hours. In the Aude, we continue to observe gusts in excess of 100 km/h, especially over the Corbières mountains.
15.40, Hurricane winds are weakening over Corsica with current speeds of 96 km/h at Cape Pertusato and 61 km/h at Porto-Vecchio. On the other hand, they are getting stronger in the Aude relief at 121 km/h on the Tuchan (880m). On the Aquitaine coast, gusts continued to oscillate between 80 and 105 km/h. Due to strong winds and swells, the waves are strong and reach up to 5-6 m on the Basque coast.
Below temperatures between 0 and 2 degrees on the plains, snowfall often persists on the land between the Orléans and Haut-Rhin regions. Snow depth is now 7 cm on the Langres plateau (52).
At 14:45, gusts still exceeded 100 km/h on the Corsica tip with 102 km/h on Porto-Vecchio (21), 116 km/h on Cap Pertusato (2A) and 121 km/h on Cagnano (2B). Tramontane was blowing hard in Roussillon with gusts of 90 km/h on Perpignan and Lézignan-Corbières. On the coast of Aquitaine, we observed 93 km/h at Biscarrosse (40).
The snow gradually weakened in the Orleans sector. On the other hand, it intensified on the Haute-Marne side with 5cm observed at Langres.
13.30, the wind is still blowing in Corsica with gusts of 110 km/h on Conca (2A), 120 km/h on Cape Pertusato (21), 121 km/h on Cagnano (2B) and 130 km/h on Porto-Vecchio (2A) . Winds have eased significantly on the Basque coast, but gusts were still locally generated on the Landes coast as the storm passed at 104 km/h over Biscarrosse.
Regarding heavy rains, accumulations were significant on mountain Corsica with 111 mm at Evisa (2A) and Quenza (2A), 113 mm at Asco (2B) and 127 mm at Vivario (2B). In the southwest, prolonged episodes of rainfall continue. He fell 108 mm in 48 hours at Biarritz
In the mountains, snowfall is heaviest in the western Pyrenees with around 80 cm of fresh snow seen in the resorts of Barèges, La Mongie and Cauterets at 1800 m.

© Weather Channel

On the plains, snowfall is currently visible in the Blois and Orléans sectors as well as on the Côte d'Or. They sometimes slightly bleached the floor.
at 12, the wind was blowing in a thunderstorm on Corsica, up to 181 km/h on Sponde (2B) and 159 km/h on Île Rousse (2B). In the central part of the island, total rainfall reached 111 mm at Vivario (2B), which is equivalent to 1 month of rainfall.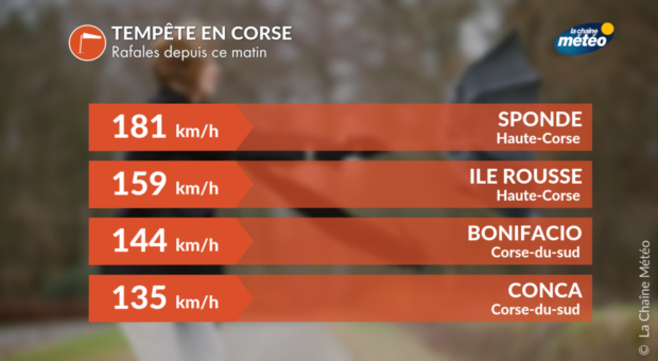 © Weather Channel

In southern Aquitaine, after the passing of storm Fien which brought winds of 137 km/h over Ciboure (64) and 94 km/h over Pau (64) and Tarbes (65) this morning, the winds weakened, but were accompanied by heavy thunderstorms. endure. Thus, in the last 48 hours, 100 mm of rain has fallen on Biarritz (64) and 95 mm of rain on Laruns (64).
In the mountains, fresh snow cover since yesterday reached 85 cm at La Pierre Saint Martin (64) and 80 cm at La Mongie (65).

© Weather Channel

In the center and east of the country, Auvergne, Rhône-Alpes, is serene with a few more snowflakes in the valleys north of the Alps. On the other hand, the situation worsened from the Val de Loire Center to Burgundy where it snowed lightly onto the plains.
at 10.30, strong winds reach Occitania with gusts increasing to 90 km/h on the Aude and Ariège. South of Aquitaine, the winds weakened, except on the Basque coast where under the grain of a storm with gusts reaching over 100 km/h
In Aquitaine, rainfall always occurs in the form of very heavy rains, sometimes thunderstorms, with a intensity of 2 to 5 mm/hour. In the Pyrenees, access to ski resorts is complicated. Very strong winds formed significant snowdrifts from a height of 1200 m.
In Corsica, it rained very hard. Since Monday morning, there has been 108 mm of rain on Vivario (2B) and 81 mm on Asco (2B), which is the equivalent of 1 month of rainfall. The wind is currently blowing in a gale over most of the island.
To the north and east, it's the snow that makes the news. From the hills of Perche to the Loire Valley to the north of the Rhône-Alpes, it snows all the way to the plains. It adheres to the ground around Annecy, and more locally at Sarthe and Cher and Indre where isothermally it adheres locally to the ground.
At 9 am, Strong winds associated with storm Fien swept over Midi-Pyrénées with gusts of 99 km/h on Campistrous (65) and 95 km/h on Palaminy (31).
Elsewhere, north of Storm Fien, cold air flows from the British Isles into central France. As a result, snow mixes with rain, or even replaces it locally between Perche, Centre, Loire Valley and Auvergne-Rhône-Alpes.
Snow starts sticking to the ground locally in certain sectors.
At 8 o'clockconditions deteriorated rapidly south of Aquitaine and Midi-Pyrénées with strong winds sweeping over these areas.
In Auvergne-Rhône-Alpes, it snows from 500 meters high in Auvergne. In Lioran (15), fresh snow has reached 25 cm since yesterday morning. Snow descends into the valleys of the Alps with temperatures approaching 0 to 2°C between Annecy and Grenoble.
North of Paris towards Normandy and Hauts-de-France, freezing fog blankets this area and can reduce visibility to less than 200 meters. Be careful when driving in this area.
7 am, As Fien's storm passed, winds picked up on the Basque coast, with speeds of 137 km/h in Ciboure (64) and 108 km/h in Biarritz (64).
Rain is abundant in the south of Aquitaine: since Sunday morning, 101 mm of rain has fallen in Biarritz, that is, 1 month of precipitation.
In the mountains, the western Pyrenees have experienced a blizzard with up to 70cm of fresh snow in Pierre Saint Martin (64) and 50cm in La Mongie (65) since Monday morning.
In Massif Central, snow continued to fall from a height of 500 meters with a height of 30 cm on the ground recorded at 1,100 meters at Cantal. This snowfall reaches the alpine valleys as temperatures approach 0°C from Annecy to Grenoble.
last Monday
At 21 hours, the rains continued and strengthened south of the Garonne, from the Aquitaine basin to the Pyrenees, at 1 to 4 mm/h intensity. The drains reacted.
It snows heavily in the Pyrenees. Access to the ski resort was complicated, especially as strong winds formed snowdrifts from 1,200 meters high.
Snowfall also continues west of Massif Central, averaging from 600 meters. The coating reached 20 cm over the 1200 meters from Aveyron to Cantal, making traffic difficult on the A75 motorway.
18 o'clock, the weather is very volatile in the south of France, with abundant rainfall in the southwest, and especially south of the Garonne. Rain accumulation since Saturday evening was significant, with 68 mm of rain recorded in Biarritz (64), 64 mm in Cambo-les-Bains (64) and 60 mm in Laruns (64), which corresponds to 2 weeks of precipitation.
In the mountains, snowfall continues in the Pyrenees: in Cauteret (65), 33 cm of fresh snow has fallen since this morning and 17 cm in Loudervielle (65).
Snowfall continues west of Massif Central, from 700 meters from Cantal to Lozère. The layer reaches 20 cm around 1200 meters on Aveyron where the secondary upland road network is complicated.