La Folle Journée in the area from 27 to 29 January 2023
07
From 27 to 29 January 2023, the FOLLE JOURNÉE in the Pays-de-la-Loire region will celebrate its 20th anniversary!
The aim is to promote access to culture for all residents and, on the occasion of the Folle Journée in the region, to share the excellence of music by promoting intimacy.
160 concerts in 23 municipalities will be offered with a unique opportunity to discover internationally renowned artists, performing major works of classical or contemporary music. This is the most important cultural event in Pays-de-la-Loire.
And this at affordable prices from 2 to 12 €.
.
.
The theme of the 2023 edition is "Ode to the night".
This will make it possible to discover the works of important masters such as Handel or Charpentier, and to explore other variations on the same theme as jazz, flemnco or so-called contemporary music.
An opportunity also to celebrate the 20th anniversary of this music and cultural organization which aims mainly for closeness " to arouse curiosity, surprise and get closer to the residents".
STAGE OF THE JOURNEY
Also note, apart from programming the 160 concerts, the settings:
– a stage tour with 15 concerts from 25 to 29 January 2023, scheduled for each department in Pays-de-la-Loire;
– also a concert held at TER on Thursday 26 January 2023;
– also concerts at Angers station, La Roche-sur-Yon and Le Mans, on Thursday 27 and Friday 27 January 2023.
It was also planned to play Erik Satie's "Vexations" at the Nantes station, for 24 hours, from 6:00 am to 6:15 am the next day ("Vexations" was composed by Erik Satie in 1893, an avant-garde musical as a reaction to the various upsets he had suffered. John Cage, the American composer, would interpret it 840 times during 1963. Since then "marathon" scores on piano have been composed and organized as a tribute to the Vexations.
LES SABLES D'OLONNE
At Les Sables, 8 concerts will be offered to Atlantis.
For Jean-François, Cultural Assistant, this is " what a satisfaction to see Folle Journée perfectly integrated into the cultural program of Sablaise. »
Armel Pécheul, regional council member for Pays-de-la-Loire, confirmed " the merits of this project that brought music closer to the public. It's not the moving public, but artists who will meet the residents. »
Conferences will be held, musical entertainment in high schools, concerts in stations, music in trains, etc. In total, 40 municipalities in the Vendée will be "affected" by this music promotion operation.
Amateur groups will be able to come and play with professionals.
BUDGET
To keep prices low for the show, the Pays-de-la-Loir County will support the operation by donating €1.6 million.
ODE TO THE NIGHT: CROSS-CUTTING THEMES
For René Martin, coordinator of the great musical tradition at Pays-de-la-Loire, the theme "Ode to the Night" has a transversal advantage and can appeal to all audiences.
As we know, as time goes by, night has inspired many painters but also musicians.
"Often it seems to me that the night is much livelier and richer in color than the day …"
Vincent Van Gogh
Musicians always sing evening poetry.
The night descends in an infinite variety of atmospheres with which the composers strove to seize and recreate lullabies, serenades, nocturnes.
Let's quote, among others:
– Lullaby (like Lullaby by Brahms)
– Serenade (little evening music, played in the evening and outdoors)
– "Nocturnes" (a secret work by John Field, which Chopin took over. The Nocturnes is one of Chopin's most famous compositions). German romanticism celebrated the beauty of the night, its silence, and the poetry of moonlight, a night vision of which can be found in certain paintings from Wagner's operas Nocturnes of Chopin, Liszt, and later Fauré.
– Evening Ballet (Louis XIV loved to dance, and he admired Lully. He had commissioned him to create what became Les Ballets de la Nuit): the night is evoked through dancing in this magnificent Ballet de la Nuit by Lully. It is organized into four sections depicting the night races, from dusk to dawn and sunrise; an idea that Haydn would later adopt with his trilogy of symphonies: Le Matin, le Midi, le Soir.
– A midsummer night's dream: the night is conducive to enchanting dreams. Mendelssohn's sonde d'une nuit d'été recreates all the magic of a Shakespearean night.
– One Thousand and One Nights: Interest in the universe of the night is sometimes confused with the interest exercised by Timur and "One Thousand and One Nights" to composers such as Rimsky-Korsakov with Scheherazade, or Mussorgsky with A Night on the Bald Mountain, or Balakirev with Tamara, a pinnacle of musical orientalism that would influenced many composers.
– Lessons of Darkness: the night is often associated with death and the musicians, like the poets, are ready to evoke the night of the grave.
during Lent, performances were prohibited, "Lessons of Darkness", invitations to meditation on the mystery of death, became an occasion for the employment of royal ballet musicians for religious purposes; 12 candles representing the 12 apostles are placed and extinguished one by one….
– Christmas eve: it has been extensively illustrated by Corelli, Handel or Charpentier.
– Small Night Music: it was intended, like the Gran Partita, another of Mozart's masterpieces, to be played on a "wonderful summer evening in a Viennese garden". Evening music is similar to entertainment music which magnifies the wind instruments.
– Night of the Transfiguration: Schönberg conveys with his string sextet one of the most beautiful poems of night and love.
etc…
(Source: La Folle Journée / Pays de la Loire).
Schönberg: The Night of the Transfiguration
.
https://www.youtube.com/watch?v=yzSaOWPBBFqA
.
.
Chopin / Field: NOCTURNES
.
.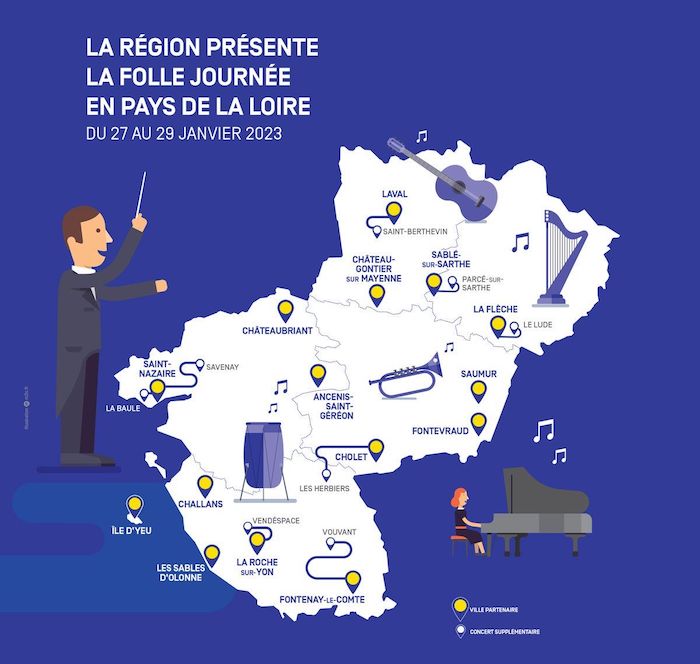 ---
LES SABLES D'OLONNE PROGRAM
Programs and Reservations:
https://tinyurl.com/48fpa4ba
.
Publish your legal announcement:
https://www.lereportersablais.com/annoncesjudiciairesetlegales/
.
.
Launch of the 2022-2023 donation campaign for "Le Reporter sablais"
.