Peppe Cutraro and Antonio Salvatore became the judges of the Galbani Professionale's Pizza a Due competition
Peppe Cutraro, pizza maker and Antonio Salvatore, cook will be the judges of the Pizza a Due contest by Galbani Professionale on April 13 in Parizza. Therefore, France Pizza interviewed them. Logical, right?
For those (very few) who don't know them, Peppe Cutrarois the author of the best pizzerias in Europe 2021 and 2022 according to the TOP 50 ranking. Based in Paris, he also won the 2019 and 2022 world titles. Starring since 2021, Antonio Salvatore, led a brigade in New York and Monaco where he lived. You will find a table of these 2 prestigious chefs at the end of the article.
FRENCH PIZZA. Did you know about the Pizza a Due Galbani Professionale event when you were asked to be the judge?
Antonio Salvatore. Yes, I am very familiar with this competition inspired by the great classic "Monde", the World Pizza Championship in Parma. The Pizza a Due event brings together pizza masters and chefs in a creativity exercise.
Peppe Cutraro. I've heard of this contest. I found myself in Parizza last year and I came across this event which I found really interesting.
Antonio Salvatore and his brigade at Rampoldi
PF. Why did you accept this proposal?
Antonio Salvatore. Combining the best pizzaioli skills and the culinary artistry of the chefs, this competition is placed under the sign of passion, connection and recognition to make pizza with 4 hands. It was a very pleasant surprise for me as an Italian chef to be invited to be a judge in the next competition. This competition contributes to the emergence of gourmet, refined, original and innovative pizzas, to win new tables and attract more and more guests. This is also my philosophy in all my restaurants.
Peppe Cutraro. When Galbani Professionale contacted me, I was delighted to be selected to represent pizza in France. Anything that represents pizza I accept!
PF. Did you know each other before leading the Galbani Professionale competition?
Antonio Salvatore. Yes of course, Peppe Cutraro is a great professional pizza maker in contemporary pizza, he is world pizza champion in 2019 and also selected in 50 best pizza in 2021, he is really someone extraordinary in his field and I am happy to be chairman along this competition with him.
Peppe Cutraro. I don't know him. Galbani made the connection. We chatted on Instagram. We will meet in Parizza on April 13th. I have a new boyfriend that I don't know (Editor's note: laugh).
PF. Peppe, what is your role in this competition?
Peppe Cutraro. We are there to direct the competition, to make sure that it goes well and the evaluation is correct.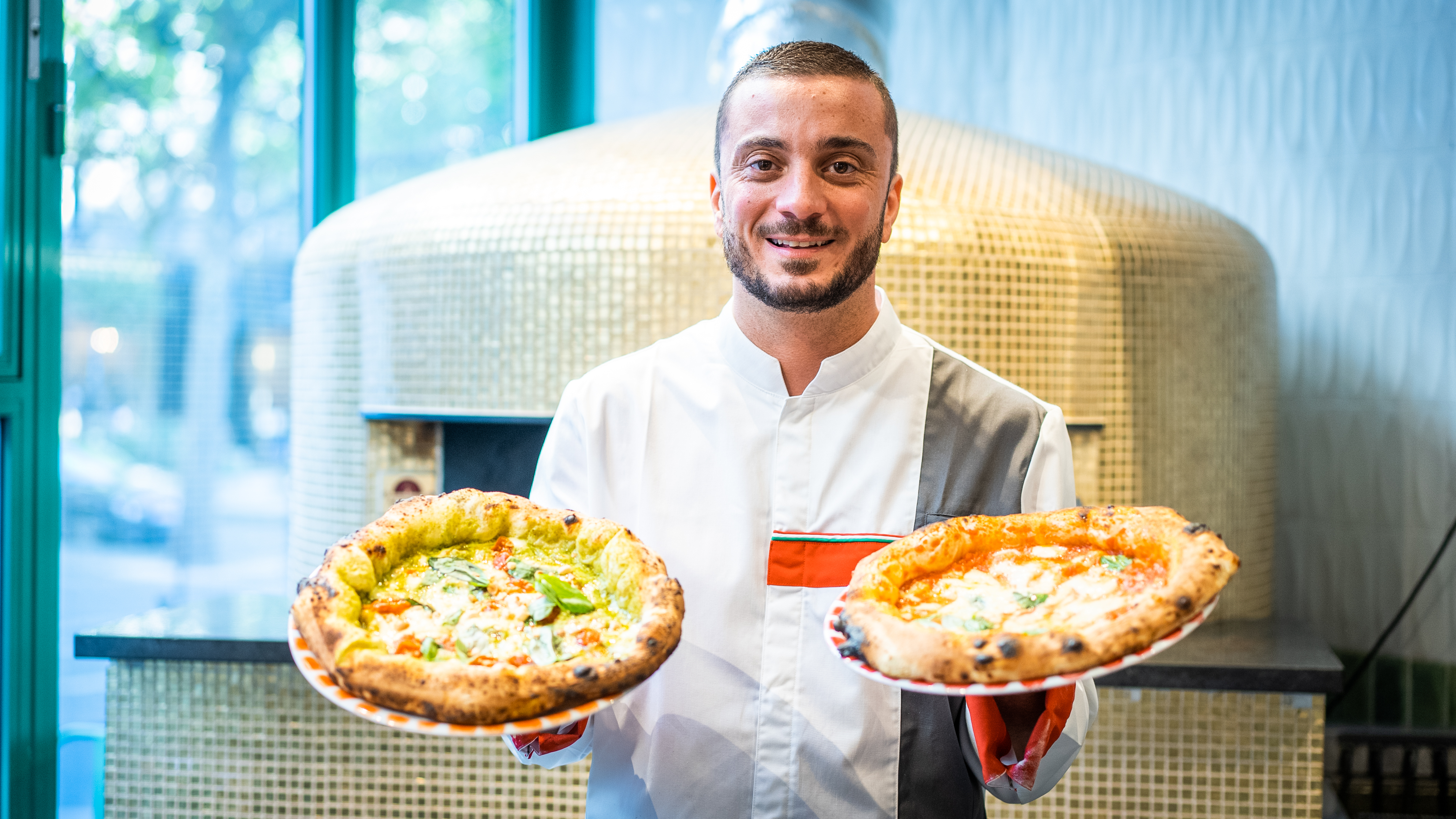 Peppe's generous pizza
PF. Antonio, how did you and Peppe prepare to be president in this contest?
Antonio Salvatore. We are discussing this and there are still elements to look at together, but we will definitely find the best strategy and the right philosophy for this competition.
PF. In your career, have you ever worked on a dish that "fits" a chef from a world other than yours?
Antonio Salvatore. I had many culinary experiences with other chefs during my overseas work projects and it was very enriching. The best thing about traveling the world is precisely to adapt to everything and evolve, but above all to create together. It's special and fantastic.
PF. What was the most difficult when working in pairs?
Antonio Salvatore. As in every collaboration, the most important thing is to find the right chemistry with other people. When you're open-minded it comes naturally and in the right kind of hospitality.
Peppe Cutraro. Blending the work of 2 personalities and sharing the same vision of cooking over the same dish while seeking balance.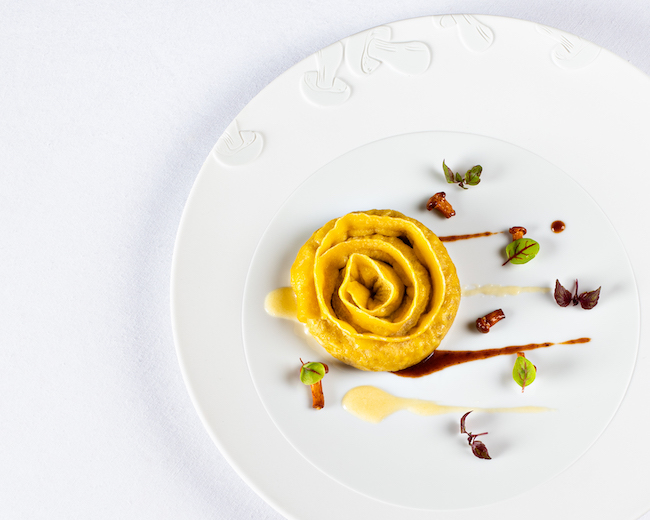 Girotondo di raviolo from star Antonio Salvatore
PF. What advice would you give to pizzaioli and cooks entering the Pizza a Due competition?
Peppe Cutraro. Be yourself, convey your chef personality in pizza and don't just make something pretty. To feel that you represent yourself at this creation moment.
Antonio Salvatore. Use excellent raw materials and remember that no innovation without respecting tradition.
PF. At what point will you be the most demanding?
Peppe Cutraro. Especially the quality of the impasto that must be pleasing to the eye, and the structure of the pasta. I focus on dough and cake. Many people think it's secondary. You can make the best pizza in the world, if you don't let the water evaporate, if you cook it too fast…the result is bubble gum!
Antonio Salvatore. I'm very concerned about cleanliness and the concept that pizza makers invent, but also how it works. If properly laid out it concerns me because the kitchen is an area where you need to be very clean and thorough.
PF. Have you entered many competitions? What was the most difficult and why?
Antonio Salvatore. I've been through a lot of competition in my professional life and I've found that the most important challenge is conquering your ego, to always do better and keep improving. That's my philosophy.
Peppe Cutraro. The one in Las Vegas in 2022, oh lala! I'm on the other side of the world and the sources are complicated. I had taken several products in my suitcase, Piennolo tomatoes, San Marzano, yeast… But at customs, they emptied them! I found myself in Las Vegas looking for everything I needed. I was in an unfamiliar country, with no idea of ​​the supplier and no idea what I would find. Finally, I came in 2nd place in this competition.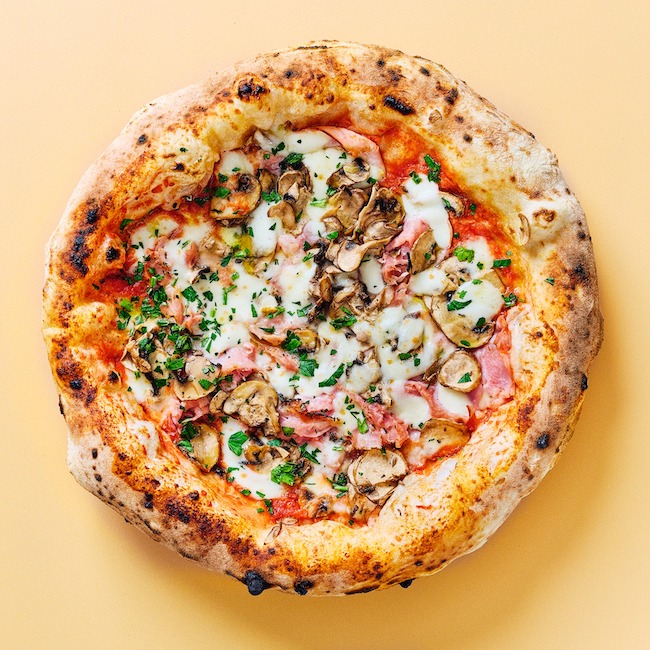 Neapolitan from champion Peppe Cutraro.
PF. How should you prepare physically and psychologically before competition?
Antonio Salvatore. It is very important to have a good rest, to relax and most importantly to tell yourself that every competition is an opportunity to learn, develop and meet new teammates. And of course, winning the competition is always better!
Peppe Cutraro. Frankly, to make pizza, you don't need to prepare it. The most difficult thing to manage is the events around. Competition is one shot, if you're not ready, it's death. Before becoming champion in 2019, I had passed other competitions. There were a lot of people, I had the sun in my eyes, little visibility of what I was doing. I cut my pizza, it was raw!
PF. What's your favorite pizza?
Antonio Salvatore. Do not laugh ! I am pure. San Marzano tomatoes, mozzarella fior di latte, basil and extra virgin olive oil, it works for me.
Peppe Cutraro. Pizza Piccante with spianata, San Marzano tomatoes, mozzarella fior di latte and candied onions.
PF. Can you remind our readers how many restaurants or pizzerias are you running today?
Antonio Salvatore. The Monte Carlo Hospitality Group today brings together La Table d'Antonio Salvatore and Rampoldi in Monaco, Atlantic Grill and Casa Limone in New York and soon Rampoldi New York in spring or summer 2023.
Peppe Cutraro. There are 3 restaurants in Paris: Peppe Pizzeria, Casa di Peppe and Peppe Martyrs. There is a take-out counter at Levallois. Finally, on January 15th, I will be opening a restaurant in Boulogne with 32 seats with, of course, VAE delivery and offers. Then I calmed down a bit.
Interview by Isabelle Aithnard.